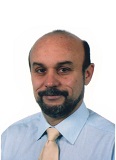 Prof. Nelson L.S. da Fonseca
The Pontificial Catholic University of Rio de Janeiro, Brazil
Biography
Nelson Luis Saldanha da Fonseca is a Full Professor at Institute of Computing of The State University of Campinas, Campinas - Brazil. He has been affiliated to the Institute of Computing since 1995. He served as Head of the Computer Systems Department, and Associate Chair for Graduate Studies. He was a Visiting Professor in the Department of Informatics and Telecommunications, University of Trento, University of Pisa and University of Basque Country. He held Lecturer positions at Pontificial Catholic University (1985 - 1987) and worked in the Computer Communications group at IBM Rio Scientific Center (1989).
His current research interest are 5G networks, Cellular IoT, Artificial Inteligence applied to Networks and Distributed Systems, Elastic Optical Networks, Fog Computing and Edge Inteligence. Nelson has also worked in Video services, Scheduling, Grid and Cloud Computing, Traffic Control and Traffic Modeling.
Nelson Fonseca has published over 400 refereed papers. He received the IEEE ComSoc Transmission, Access Optical Systems Technical Committee Best Paper Award (2014), the IEEE Globecom 2012 Best Paper Award and IEEE Latincom 2011Best Paper Award.